---
---
NewMed's highest Intensity PEMF device
The Zimmer emField Pro is one of the highest intensity PEMF (Pulsed ElectroMagnetic Field) devices on the market and has passed EU safety testing. The emField Pro is capable of delivering up to 30,000 Gauss (3 Tesla) PEMF therapy.
Zimmer emField Pro
The human body is a good conducting medium and also conductive to magnetic fields. Since ions in a cell have a charge, the cell membrane also needs a certain charge.
The membrane charge of normal, healthy cells is higher than that of diseased or aged cells, including bacteria and viruses. When the cell membrane charge is low, the cell has too little energy to perform its normal function. Hence, cells need energy, and electromagnetic field stimulation is known to increase this energy and optimize the function of the cell. Electromagnetic fields can pass through cells, tissues, organs and bones without any deformation or loss, activate the electrochemistry of tissues, and improve cell and cell membrane function.
The emFieldPro generates a magnetic field of 3 Tesla, which is about 600 times stronger than a normal magnet bar. This strong magnetic field stimulates nerve cells, muscles, and blood vessels consequently. 
Free Face to Face training included
NewMed offer full after sales support on the emField Pro we are happy to visit you in person once your device is delivered to give you specialised training.
Best Price Guarantee
Found this product cheaper? NewMed make every effort to be as competitive as possible, but if you have found this device cheaper from another supplier, then ask us if we can match it. For overseas suppliers, please consider shipping, VAT and import fees, which are often high. All of these costs are paid by NewMed already with our stock, so that you don't have to.
2 Week Trial
Price includes delivery and face to face training on how to operate the device correctly.
There is also the option for a 2 week trial (in clinical settings only), to discuss the terms and requirements please call our friendly customer service team on 0808 1689 282.
Technical Data
Magnetic power

3 Tesla (30,000 Gauss) - Large Applicator

2,5 Tesla (25,000 Gauss)  - Medium applicator

Channels
2
Frequency
1 – 100 Hz
Treatment Protocols

Programs: 20 Favourites: 20 Expert mode: 20

Treatment time
1 – 60 minutes
Interface
8" LCD touch screen and central button
Dimensions
542 (L) × 501 (W) × 993 (H) mm
Weight
Approx. 60 kg
---
Discover the Zimmer emField Pro
James Hall - GB Gymnast discusses the Emfield Pro...
Treatment with emField Pro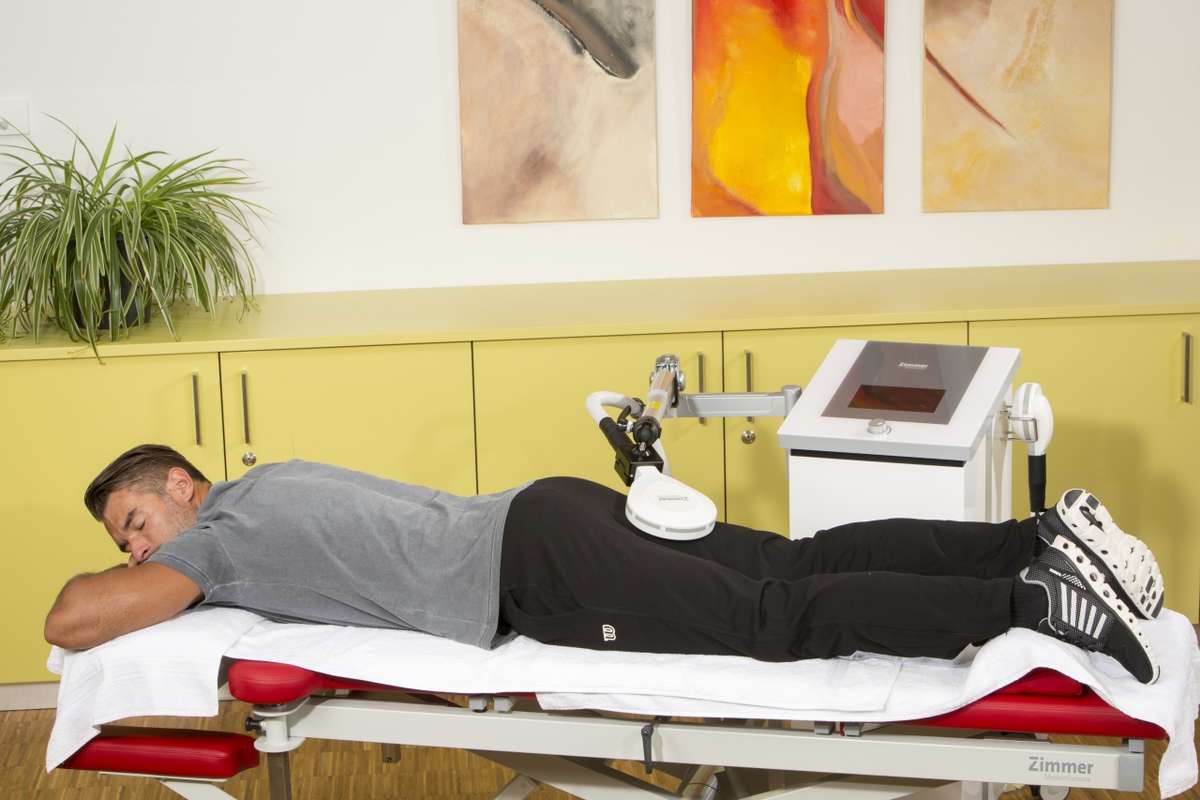 Static Treatment
For static treatments use the large applicator, which is mounted on the applicator arm. Pain points and trigger points for static treatment are initially palpated.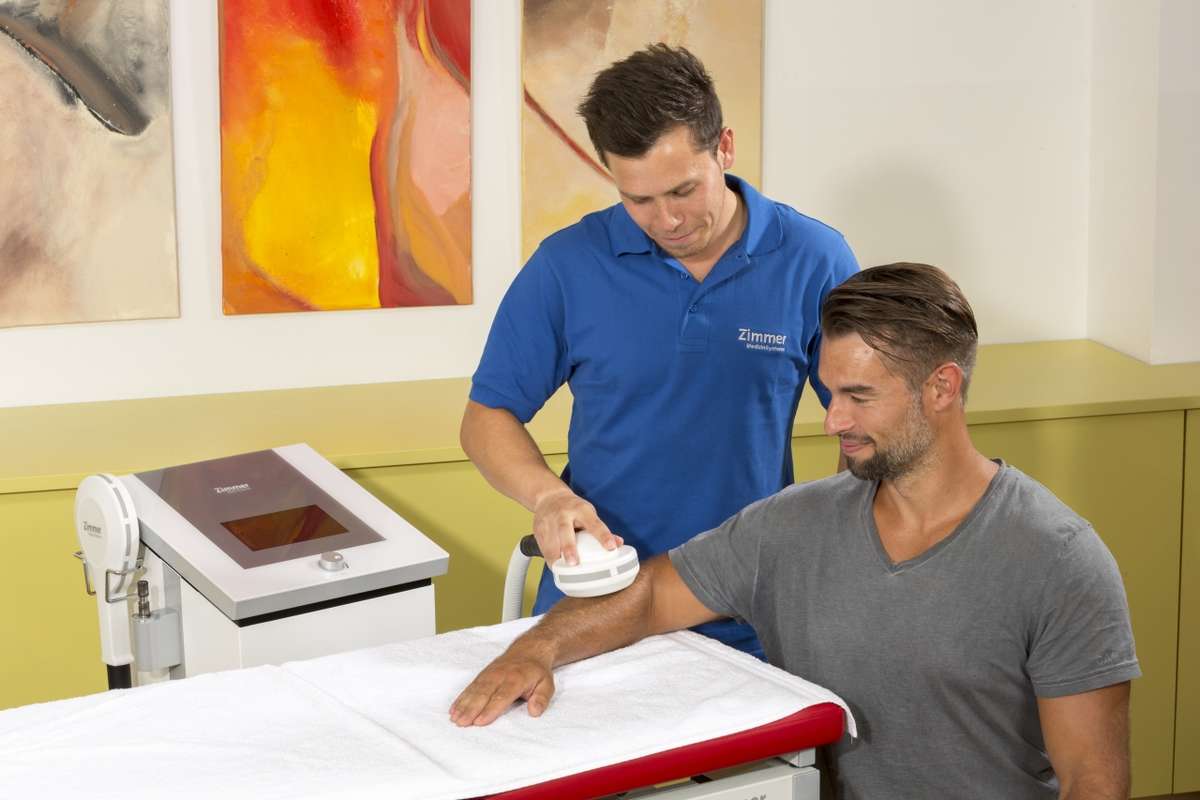 Dynamic Treatment
Use the medium applicator for dynamic treatments and no direct skin contact is needed. If skin contact is desired, make sure the skin is dry and clean.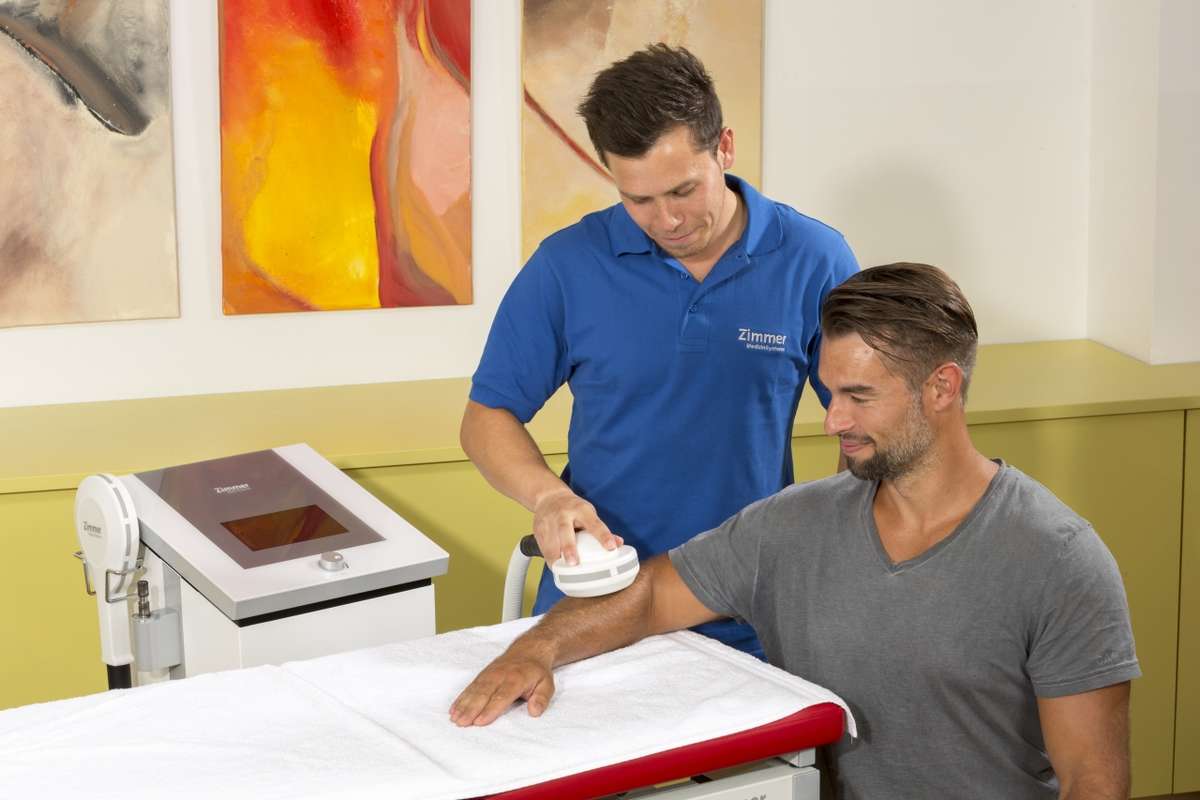 Combined Application - Static and Dynamic
Very often, pain is not evenly distributed in the treatment area. Trigger points and principal pain points are treated statically whilst other painful areas are treated dynamically.

With combined treatment, care should be taken to ensure that static therapy is initially applied to the pain and trigger points. Extensive treatment can then be continued with dynamic application.