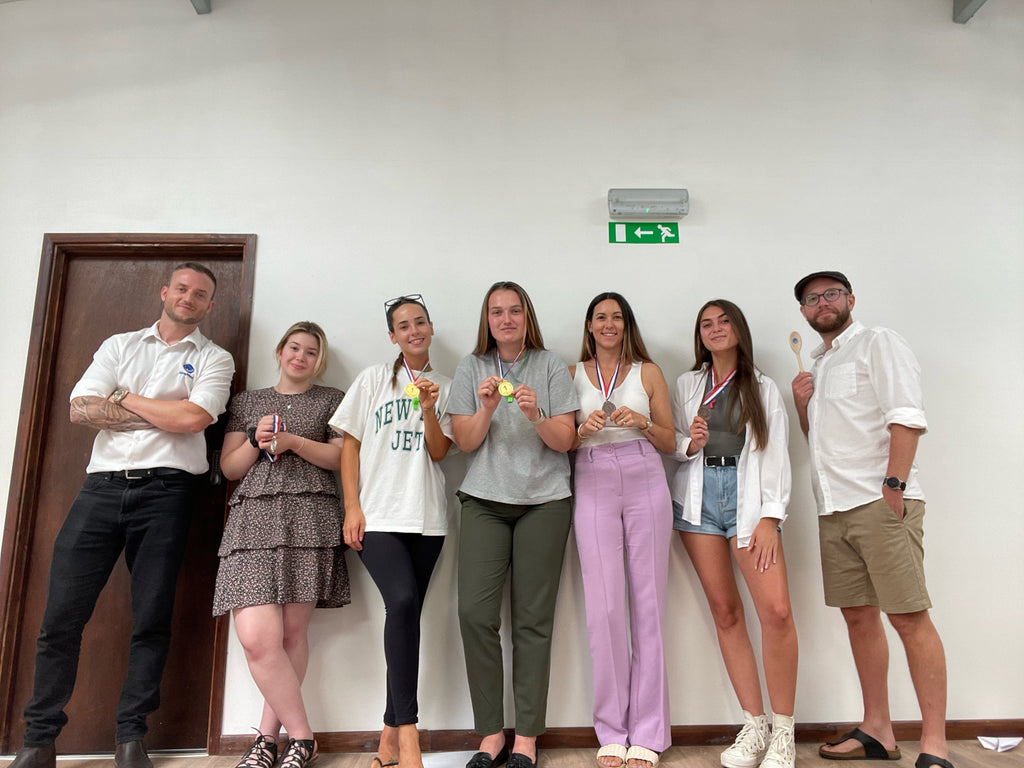 Get to know the NewMed team!
With the NewMed team growing each year (There are 8 of us now!) we thought it would be a good idea to let you all get to know us a little bit better! And what better way to do that other than to ask the team what their favourite PEMF devices are! 
Starting off with our Managing Director Andy. He discovered PEMF therapy after using it himself to heal and recover from an operation, and started the company NewMed back in 2014 with the aim of bringing PEMF therapy into the UK. When we asked him what his favourite PEMF device was he said "It's hard for me to pick one device when I use these two so often! The Curatron XPSE offers a perfect range of intensities and medical programs that I get the best response on this device for keeping my body on top form. But on the go and when I travel, I cannot leave the house without my Oska Pulse. Perfect for the little niggles picked up at the gym and as a sleep aid under my pillow when I have to stay overseas for periods of time!"
Next, we spoke to Jade, our Marketing and Office Manager. Jade is an experienced marketing manager with over 5 years' experience in all aspects of marketing. Beginning her career in the NHS, she gained a first-hand understanding of how health and wellbeing affects quality of life. Jade's favourite PEMF device is the FlexPulse, she said "My favourite PEMF device is defiantly the FlexPulse. This localised PEMF device is small in size, making it easy for me to use on the go! The device may be small but it gives me the intensities I need when I need them!"
We then asked Christopher, our Ecommerce and Website Manager, a certified web developer who has 10 years' experience of building multiple websites and covering all aspects of running a thriving business. When asked what Christopher's favourite PEMF device is he replied "I'd defiantly say the Curatron 3D for me. I really like the the mat as it's so high in intensity (500 Gauss). I also like that the device comes with the localised butterfly coil applicator which has an intensity of 1600 Gauss! It even has 10 pre-set programs to choose from, as well as the software allowing the opportunity to customise the intensity!"
Then talking to Damien, our Business Development Supervisor. He looks after a range of physiotherapy and aesthetic devices with a focus on our NMLmedical division, with extensive experience in business development and customer relations. Damien has 2 favourite PEMF devices that aid his marathon training and recovery as well as long endurance type exercise, cycling etc. He said "The EmField is my go-to when I have very specific aches, niggles or an area where these is localised inflammation, this is frequently my right thigh. It's my go to when I have mobility issues sometimes in my ankles. 20 minutes on the EmField massively helps in a lead up to a big run or cycle, ideally 24 hours, as well as injuries after. The Hugo Pro is my go-to daily device, when I know I need full body PEMF exposure. It's often in the afternoons when I may slump from a big lunch and when my morning coffee has worn off. I find it increases my metabolism too when feeling bloated. It's equally as good in the morning when I want a little more energy for the day ahead!"
Next, we spoke to Grace, our Client Relationship Supervisor, she has been a part of the NewMed team for 5 years now, and is dedicated to looking after the PEMF therapy side of the business, providing advice and assistance to both our home and professional PEMF customer base. Grace when asked what her favourite PEMF device was she said "I love the Hugo Intense and the Hugo Pro! Theses full body PEMF devices are perfect to be used in both a professional and home setting. With the Hugo intense reaching up to 7500 Gauss, and the Hugo Pro reaching an incredible 12,000 Gauss! I also like that the devices come with different applicators as well as just the dual body mats"
We then spoke to Rhiannon, NewMed's Office Assistant. Her responsibilities include administrative tasks, and she has completed her level 3 diploma in business administration. Rhiannon explained that the Biomag is her favourite devices! She said "I like the Biomag because of how easy it is to use! One feature that I especially love about it is that I can use it while working! I simply pop it on my office chair and receive PEMFs while working without even having to think about it!"
And now introducing our newest member of the NewMed team, Eloise, our Sales and Office Administrative Apprentice. She is always looking to incorporate new ideas into current procedures, while providing direct administration support to the team and customers. Eloise said when we asked about her favourite "The Hugo Pro is my favourite PEMF device! The device is simple to use, and the sessions are only 12 minutes long, which is great to fit into a busy lifestyle!"
And finally, our Digital Marketing Apprentice, Ellie. She is responsible for all of our social media pages, and makes sure to keep all of our followers and customers up to date with the latest PEMF news! When asked what her favourite PEMF device was she responded "I like the Oska Pulse! The little device is so convenient to use on the go, and is as simple to use as pressing one single button! And the strap that comes with the device makes it easy to wear when walking about and doing other things, which is great to fit into everyone's day!"
---