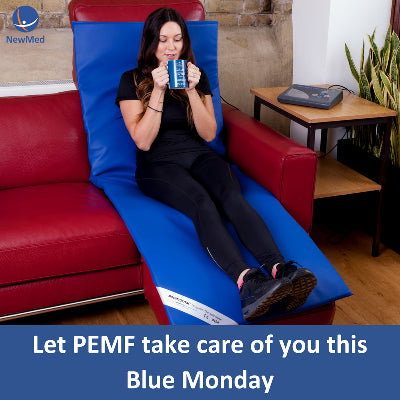 Let PEMF take care of you this Blue Monday
How Pulsed ElectroMagnetic Field (PEMF) therapy can lift your spirits before the most depressing day of the year.
This 2018, Blue Monday falls upon Monday 15th January. Dubbed the most depressing day of the year, it is a notion that has grown in recent years and it is believed to be due to post Christmas blues, coupled with dreary weather, darker days and credit card bills from Christmas splurges. But all is not lost; a study on depression found that those who received PEMF therapy were happier than those who did not. The double-blind study which lasted 2 ½ years, found that PEMF therapy resulted in antidepressant effects which in turn led to those subjects reducing their depression medication. 1
Non-invasive and drug-free, PEMF therapy stimulates cellular repair to improve your body's overall performance. It is an idea harnessed by NASA, using the Earth's natural magnetic fields in a concentrated manner and has many benefits such as improving recovery time, pain-relief, sleep and general wellbeing.
One happy customer, Amanda, commented, "After 3 weeks of using a PEMF therapy mat, I found it to be very useful, my energy increased and my mood lifted."
Christopher McCloskey, Internet Sales Manager at NewMed says, "To combat Blue Monday, we are offering a special PEMF therapy package, which is a free Elf Emmit with every Magnetovital® Wellness purchase – this way you can take care of your body and mind."
To take advantage of this offer, please contact NewMed or visit https://www.newmedltd.co.uk/products/magnetovital-wellness-body-mind-deal
---