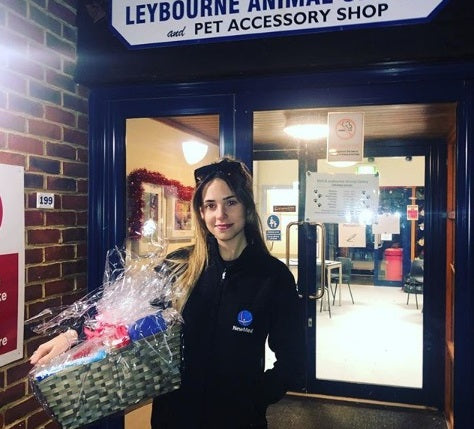 NewMed donates gift hampers for rescue dogs this Christmas
Electromagnetic pad therapy company creates gift hampers for local rescue centres
This Christmas, NewMed, based in Kent, created and donated gift hampers for local rescue dogs in a bid to raise awareness of the number of dogs who are abandoned during the Christmas period.
The phrase 'A dog is for life, not just for Christmas' is a 40 year campaign by Dogs Trust however 2017 saw a 54% increase in calls from people who could not cope with their new dogs(1). But the problem is truly a year-round issue; one of the rescue centres receiving a hamper, Karebear Kennels, have 5-10 rescue dogs a week from Swale.
The other centres to receive gift hampers were Labrador Rescue Kent, The Retreat Animal Rescue and the RSPCA. Included in the hampers were a wide range of dog toys and treats so that even dogs without homes could have something this Christmas.
Andy Smith, Managing Director at NewMed, comments, "At NewMed we are avid animal lovers and have an entire division, PEMF 4 PETS, specifically designed for animals. Christmas is the time for giving and this year we wanted our gift to raise awareness of a good cause as well as ease the burden on the local rescue centres who are at their busiest during the Christmas period."
Kelly Smith, owner of Karebear Kennels, adds, "We know NewMed as we already use pulsed electromagnetic pad therapy at the Kennels and see such rapid improvements in the rescue dogs that come in, meaning they can be rehomed quicker. The gift hamper from them is just the cherry on top – a little gift for the rescue dogs this Christmas really goes a long way. We are very grateful to NewMed for their generosity and helping to raise awareness of this issue. "
Non-invasive and drug-free, PEMF is an idea harnessed by NASA,  which uses the Earth's natural magnetic fields in a concentrated manner to stimulate cellular repair and has many benefits for both humans and animals.
-ends-
References
Donnan, E. (2018). Record number of dogs abandoned at Christmas and social media could be to blame. [online] mirror. Available at: https://www.mirror.co.uk/news/uk-news/record-number-dogs-abandoned-christmas-9575850 [Accessed 18 Dec. 2018].
---