---
---
Tecnosix Mag 3.0 is a modern and portable high intensity PEMF device which can be used for many conditions. It has a unique and easy to use program chooser on the app so you always know which program is right for you. It has an intensity of up to 300 Gauss.
The Tecnosix Mag is easy to set up and apply and is one of the most sophisticated and effective and easy to use PEMF devices available.
VAT Exemption
Providing you have a chronic condition and you are buying for personal use this product qualifies for VAT exemption. If you choose the VAT exempt option above when you place your order we will include a VAT exemption form in a pre-paid envelope to be returned to us for our records. To find out more about VAT exemption please click here
Watch our product video to find out more...
---
Find out more about PEMF therapy..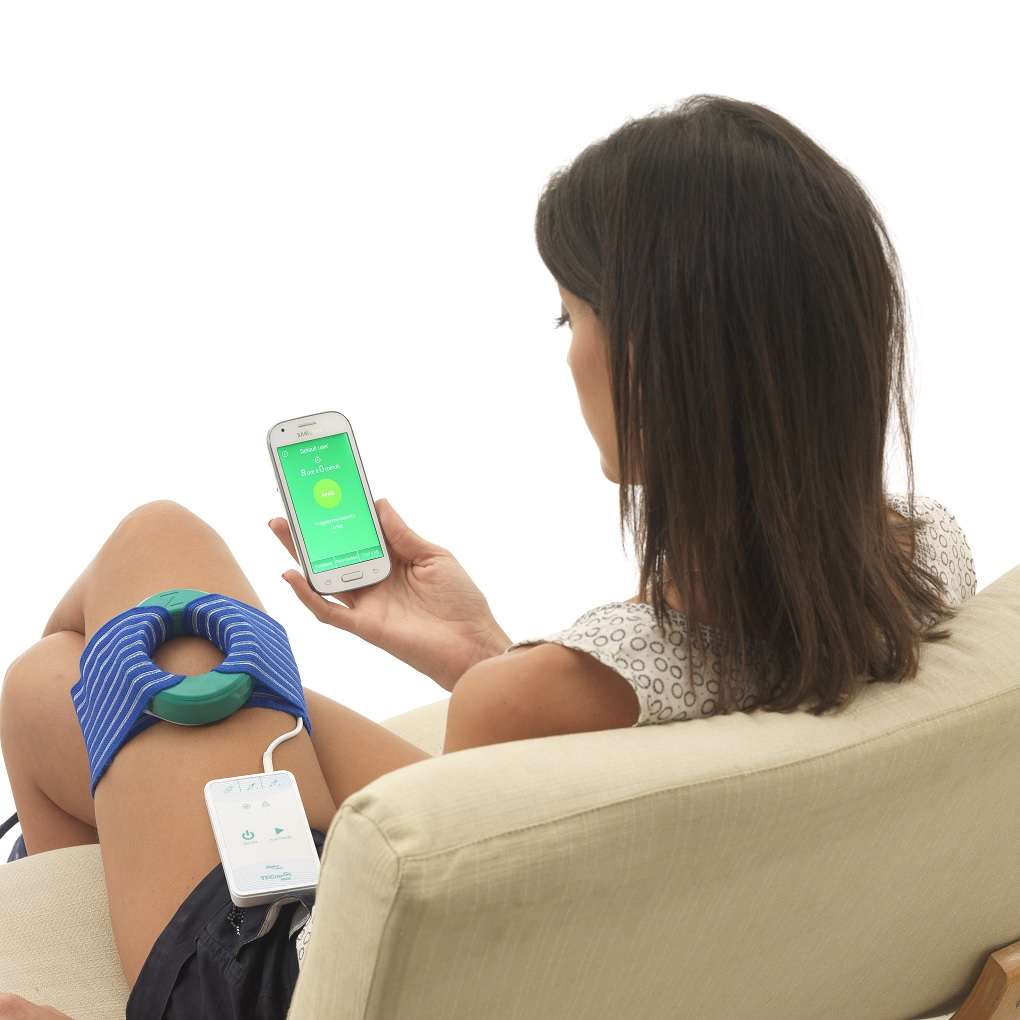 PEMF stands for Pulsed ElectroMagnetic Fields. Put simply PEMF therapy is a form of magnetic therapy using ElectroMagnetic fields generated by copper coils. It targets the body at a cellular level, helping with a variety of disorders, diseases, conditions and injuries, through a wide range of applications.

PEMF is applied at home and is a safe and effective treatment for many conditions.

There are already over 7000 clinical trials using PEMF therapy and although it has many applications it is most widely used for pain management, improving sleep and relaxation.


Better than TENS! PEMF therapy has a far larger treatment area....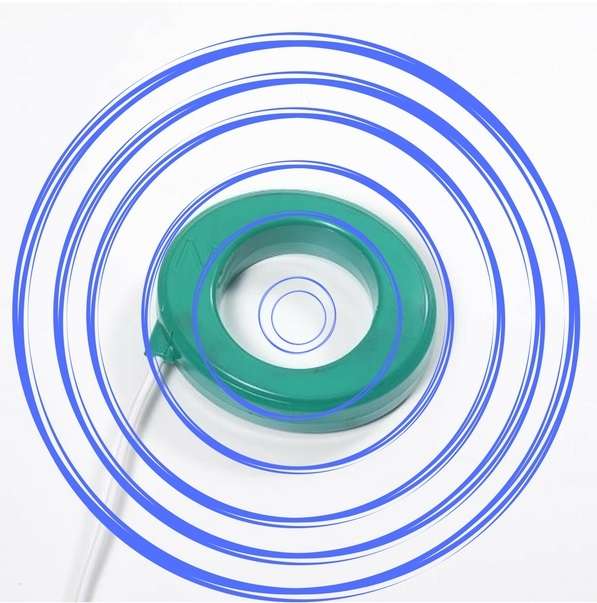 Unlike cheap TENS devices which work on the surface of the skin to block pain signals, Pulsed ElectroMagnetic fields (PEMF) work through clothing and muscle tissue and have a far larger treatment area.

The Tecnosix Mag 3.0 has a treatment area around the coils which is roughly the same diameter as a beach ball ( 17in / 43cm) so the therapy will work on the surrounding area.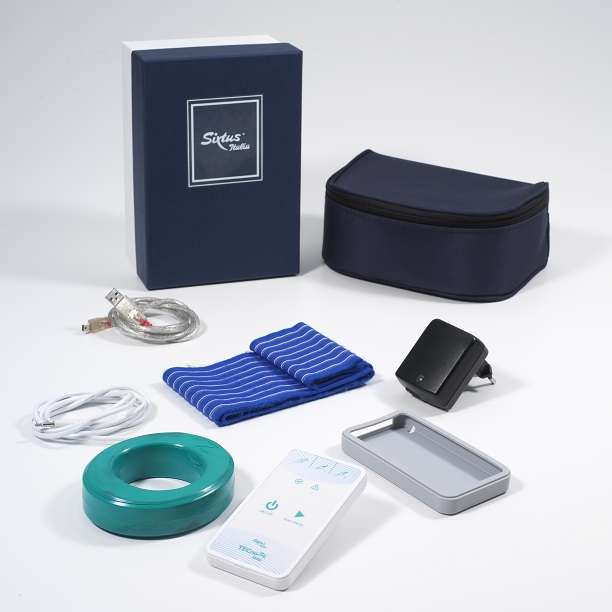 Features
Blue Tooth 4.0
Smart Battery
Power (Gauss): 300
Frequency (Hz): 1 - 200
Programs 55
Compatible with iPhone, Samsung and Windows (The device also works on a standard program if your phone is not connected)

Price includes everything you need:
1 x Tecnosix Mag 3.0
1 x USB Cable
2 x Applicator (With straps)
1 x Manual
1 x Carry Case
1 x Protective Case
1 x Test Magnet
Tecnosix Mag 3.0 Program Guide
The Tecnosix has 55 easy to select programs...

General 75Hz

Acromioclavicular Joint Arthrosis 30Hz

Arthritis 30Hz

Arthrosis 15Hz

Back Pain 60Hz

Bursitis 100Hz

Cartilage Clean Up 20Hz

Cervical Arthrosis 5Hz

Cervical Pain 10Hz

Clavicle Fractures 40Hz

Contracture 20Hz

Contusion 15Hz

Coxarthrosis 50Hz

Delayed Union 50Hz

Dislocations 40Hz

Epicondylitis 95Hz

Femoral Neck Fracture 50Hz

Forearm Fractures 50Hz

Fractures 50Hz

Hand Arthritis 15Hz

Hip Arthritis 30Hz

Hip Prothesis 20Hz

Joint Pain 125Hz

Knee arthritis 35Hz

Knee Arthrosis 45Hz

Lower Back Pain 60Hz


Muscle Atrophy 35Hz

Myositis 50Hz

Neck Arthritis 15Hz

Osteonecrosis 50Hz

Osteoporosis 50Hz

Pelvic Fractures 60Hz

Periarthritis 50Hz

Post ACL 20Hz

Post Knee Prothesis 15Hz

Pseudoarthrosis 10Hz

Pulled Muscle 60Hz

Rotator Cuffs 15Hz

Scaphoid Fracture 40Hz

Sciatica 80Hz

Shoulder Arthritis 40Hz

Shoulder Fracture 30Hz

Spinal Arthritis 25Hz

Sprains 50Hz

Stiff Neck 30Hz

Tendinitis 50Hz

Tendovaginitis 120Hz

Tibia Fracture 40Hz

Upper Extremity Subluxations 190Hz

Whiplash 10Hz

Wrist Fracture 30Hz


Along with a free phone telephone number and dedicated technical support NewMed also offers: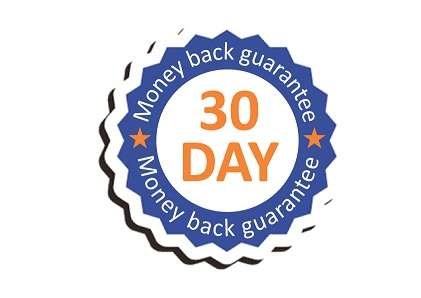 Change your mind or your PEMF therapy does not work as you expected? No problem NewMed has you covered with a 30 day money back guarantee.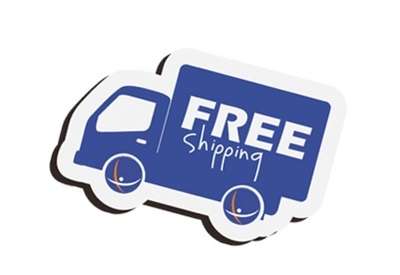 We hold most items in stock and our prices include VAT and free tracked UK delivery as standard. Our delivery outside of the UK to mainland Europe is also a reasonable £20.00.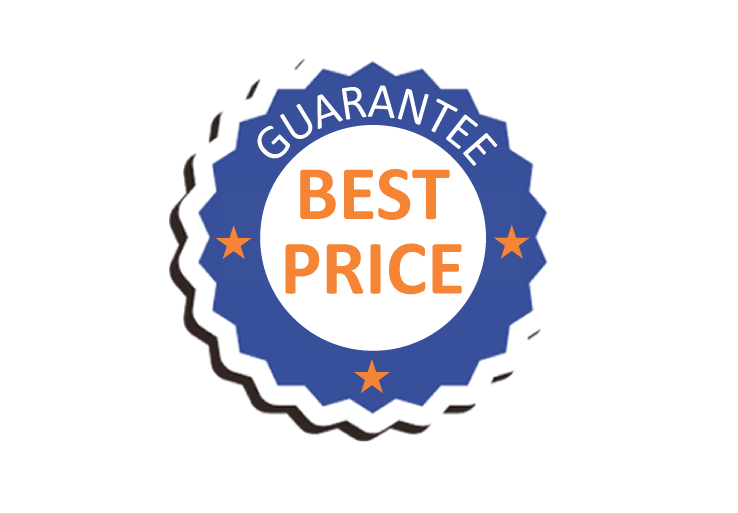 We guarantee we have the best prices for our products in the UK. If you do see our PEMF products elsewhere for cheaper let us know and we will price match.
The research behind Tecnosix
The Tecnosix has been developed alongside the latest research into PEMFs and their benefits, find out more below...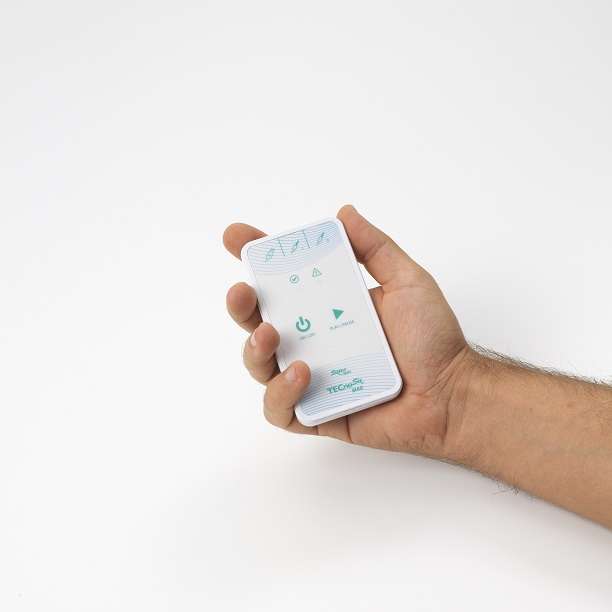 Magnetic therapy is an alternative medical practice that uses low frequency and low intensity pulsed magnetic fields to treat certain diseases.

Magnetic therapy has long found great agreement in international scientific circles, especially with respect to chronic and degenerative diseases or in the treatment of osteoporosis, and delays in bone consolidation. Several effects can be attributed to magnetotherapy: the piezoelectric effect, the effect of collagen orientation, the stimulation of calcium deposition (Barker-Lunt 1983, Bassett – Pawluk, – Pilla 1974, Bassett-Valdes – Hernandez 1982).


Freephone 0808 1689 282 or
e-mail us at Info@newmedltd.co.uk
Does it come with a UK Power Lead?
Yes the device is provided with a UK power lead. There is a also a power adaptor provided for if you are using the device in the rest of Europe.
How often would I need to use it?
There are no known negative effects from using it as much as you choose but we would suggest to use the device at least once a day.
How long is each program?
The standard programs are 30 minutes.
How long does delivery take?
Standard delivery is 1-2 working days via a tracked service. You will receive a tracking number and delivery updates along the way.